The Super Turd Brothers
The tale of two brothers from an alternate reality who are actually living turds. They are sucked to our dimension by the crazy experiments of a mad scientist, who then makes it his life's purpose to destroy the hapless Turd Brothers. Luckily, our Turds are quite tough, and know how to come out okay in any situation.
The AntiBalls Force (aka AB Force or ABF)
A ridiculous group of action heroes whose primary objective is to stop the resurrection of the Geek Gods. Our heroes fight against insane villains who seek the return of the Geek Gods' reign - villains such as Dr. Fart, and Big Bolz. Master Hammer, the leader of the AntiBalls Force, a thousand year old dwarf, has seen the rule of the Geek Gods first hand, and it wasn't pretty. Unfortunately, the Geek Gods' return is inevitable, and the AntiBalls force will have to face them.
Please also note that the AntiBalls Force and the Super Turd Brothers will NOT contain adult or mature content of any kind. The content will be as immature as it gets! Extreme helpings of sillyness and absurdity all around!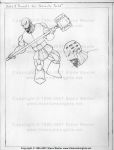 Here is an old unfinished page of AntiBalls Force. The AntiBalls Force is constantly at odds with the Geek Gods and their pesky minions. The AntiBalls Force comics used to be quite lewd, with giant genitalia being used as weapons against them. I have decided to clean up all the characters in the comic, and continue using them in milder "Toilet Humor" comics - you know, stuff like farts, corny jokes, etc.
Why did I decide to clean up the AB Force, and not leave them as they were?
I am a Christian
I do not want to be famous for writing and drawing "nasty" comics.
AntiBalls Force Story: Long Range's Punishment
Short story about AntiBalls Force team member Long Range. Also featuring team leader Master Hammer and Geek Gods minion Boot Crack.