Titanium Knights comic page...
Monday, 11 December 2006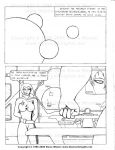 Here is the first remade page of the Titanium Knights comic. I originally had 2-3 pages, but all the original artwork was stolen. I created this page some years after the loss. The art is similar to the original, major changes include a female officer instead of a helmeted officer, and one officer at the controls instead of three, and the shape of the screen was originally rectangular. Enjoy!